Well, its now almost October & soon Christmas will be here! Have you decided on a new look for the upcoming Holidays? It is the time of year when we see friends and family we rarely see. Why not greet the season & your friends & family with a new fresh look!
In this tough economy perhaps a change of hair or makeup is all you can afford. If your'e lucky enough (or to the point, hard working enough) to have the money to invest in some new wardrobe pieces, start with a pencil skirt. This is a big trend for the season! The skirt can be conservative or have a slit all the way up your thigh! Its up to you & how you plan, rather where you plan to wear it. The office would not be a good choice. For a pencil skirt suitable for work, try one with a pleat in the back. Another trend is boots that fit loosely around the calf instead of fitted. Great for those who have larger calves! Pair the pencil skirt with a new pair of boots! However, be sure to pair the skirt with a loose fitting blouse or sweater that skims the waist.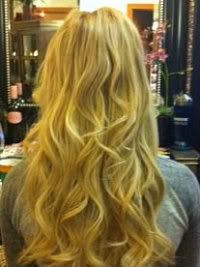 If you are like most of us, adding to our wardrobe is not an option. Luckily a makeup or hair change is affordable to virtually all of us! I love Hair Extensions! Yes, I know they are an investment but there are options. Clip on synthetic Hair Extensions are an affordable choice & really enhance & change your look & without the long term commitment or costs. If you are looking for a more permanent Hair Extension, be sure to do your homework! If someone is offering a cheap price for either their time for application or their Hair Extension or both, RUN! The old saying, "you get what you pay for" is all too true! When it comes to your hair & scalp, why would you trust a cheap price? Realize that a experienced, licensed, certified & trained stylist spent a lot of money & time becoming an expert! If a stylist is offering a lesser price, that is a huge indication the stylist is either not licensed, not certified, not professionally trained or worse, all! You wouldn't trust a doctor or a dentist who offered a cheap price. So why do so many trust a cheap price when it comes to your hair?
The truth is you really do not get something for nothing. You end up paying much, much more to try to repair the damage the cheap price got you, if you can even repair the damage! The lesson here is, do your research! Ask questions. Trust only an experienced stylist who has references. If the price for Hair Extensions is too good to be true, well its not...true that is!
Bad! Too much & way too close to the brow!
Lastly, lets talk about makeup. So many women I have worked with, yes celebrities too, have no idea how to apply their makeup! They tell me how they have learned one look & are still wearing it! Going to work, same look, going to the store, the same look, on a date, the same look. Boring!! You should be aware that men love & need variety & also are visual creatures. Does that mean your man will leave you? No! If a man is truly a man & loves you, he will not leave you just because he is growing bored with your look. But wouldn't it be great to treat both yourself & your man to a variety of looks? I hear virtually daily, how much I change my looks. People comment on my appearance all the time! I change my eyeshadow colors, my eyeliner application, my hair. These changes energize me and make me feel more attractive. Yes, because I am a professional it is easy for me! With a few small changes, a bit of time and practice, you too can learn at least 3 different and most of all, flattering looks. All you need is the time to practice, its worth it! Try going very soft on your eyes, perhaps just a bit of brow pencil, a taupe eyeshadow & a coat of mascara with a dramatic lip. Red, all sorts of shades, wine, browns, deep plums, all look fantastic and finished with soft eyes. Especially with groomed, shaped, enhanced eyebrows! The reverse is a bit harder to master. The dark, dramatic smokey eye, paired with a nude lip. The lip is easy, it is the eyes that can look horrible if done wrong and not blended. So take your time, practice with a friend. Its fun & after you get the hang of a few looks, add a few hairstyle changes & see how the world & your man look at you differently!!
This is a good smokey eye look & tips!
I am happy to answer any questions! Feel free to join & I'll guide you towards the looks, how to get them & styles I've created for numerous celebrities & Award Shows! I'm your "Studio Makeup Chick"!
Beautifully Yours,
Lisa